Cosmetic Dentistry Services
If you're interested in a whiter, brighter smile, you can spend hours searching the stores and the internet looking for the latest strip or gel, or you can call SMILE! Advanced Dental Center at 843-873-1261 and schedule a teeth whitening treatment in Summerville, SC. Our dentists will provide you with a safe and effective treatment that can produce the results you want in just one visit.
Teeth whitening is a simple, effective cosmetic dental treatment that noticeably enhances your smile in as little as one treatment. Our professional teeth whitening treatments utilize a powerful yet safe whitening gel that is applied to the surface of your teeth. This gel works to lighten the appearance of stains, discoloration, and yellowing on the tooth enamel caused by a variety of factors, including: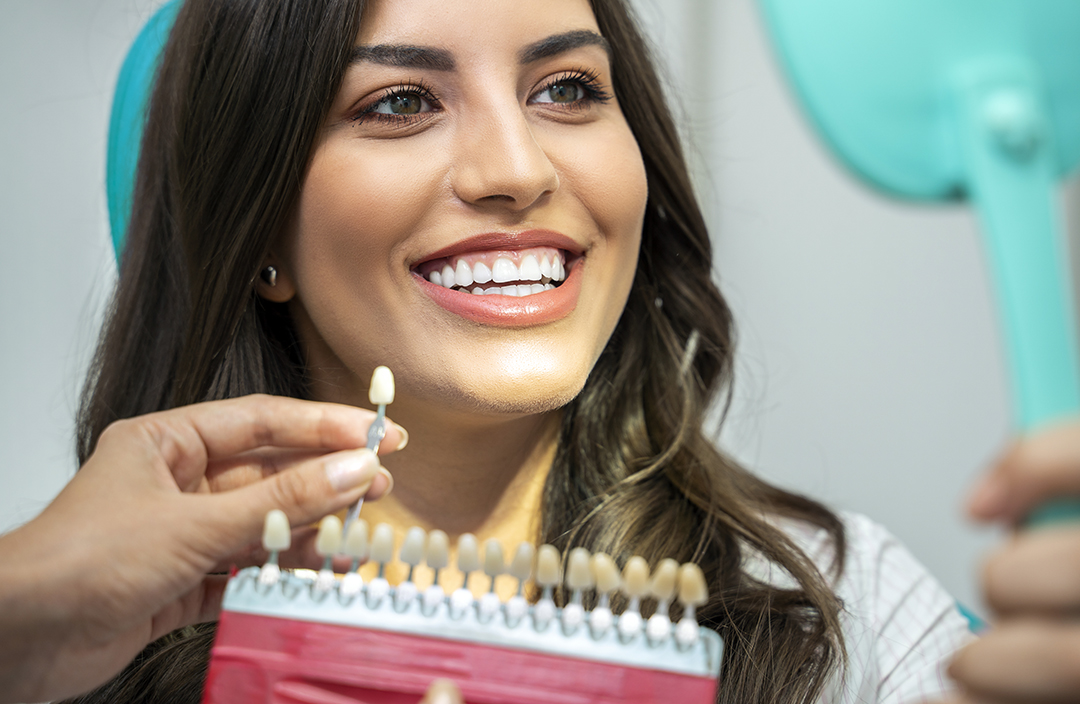 The natural aging process
Poor dental hygiene habits
Consumption of certain drinks and foods, including tea, wine, coffee and soda
Smoking and other forms of tobacco use
Illness
Certain medications
Fluorosis
Our dentists work with your unique smile to determine the right type of treatment and treatment length to achieve the aesthetic you desire. Our professional teeth whitening is available in both in-office and take-home systems.
Do you know how tough your tooth enamel is?! Well, it's not quite as tough a steel, but it is comparable. As strong as it is, however, your enamel can be worn down by the acids in your food and the plaque on your teeth.
Fluoride is a mineral that is naturally found in water and in many foods — and it helps strengthen your teeth and protect them from tooth decay. As you eat and drink throughout the day, bacteria, sugars, and acids constantly attack and demineralize the enamel of your teeth. Fluoride works to remineralize tooth enamel, preventing tooth decay and cavities. In addition, fluoride can strengthen teeth as they develop to make sure they are strong and healthy. So this makes fluoride very important for children as their teeth grow in.
While we all get a certain amount of fluoride from our diet and from using toothpaste with fluoride, we may recommend fluoride treatment to further strengthen your teeth and prevent cavities.
Our dentists and team members may recommend professional fluoride treatment during your regular dental checkup, especially if your teeth are prone to decay or if you aren't receiving a sufficient amount of fluoride from other sources.
Professional fluoride is available in the form of a gel, varnish, or foam, and it is just one of the ways our team helps keep your smile healthy for a lifetime.
For more information about preventive dentistry and the benefits of fluoride, contact us at 843-873-1261.
Email us
smile@summerville.dentist
Cosmetic dentistry generally refers to any dental work that improves the aesthetics of your smile, including but not limited to color corrections, missing teeth, misshapen or uneven teeth, and more. At Smile Advanced Dental Center, our specialists know that even the smallest adjustments can make a big difference in boosting confidence and self-esteem. Our specialists implement the most advanced, state-of-the-art technology to make you want to show off your smile more.
At our practice, we may suggest cosmetic dentistry for any of our patients who would like to improve their smile. Cosmetic dentistry might be the right solution for you if you have:
Cracked, chipped, fractured, or broken teeth
Gaps and spaces between teeth
Discolored, yellowed, or stained teeth
Slightly misaligned or uneven teeth
One or more missing teeth
Teeth that appear too long, too short, or too pointed
Very worn teeth
Misshapen teeth